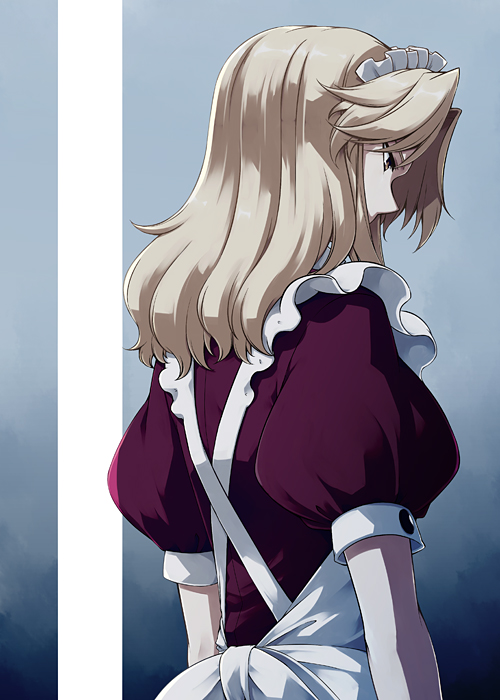 Name: Yumeko
Exact Age: Due to her artifical birh, Yumeko's actual age in human years is difficult to figure out. However, Shinki has referred to her as a 'young woman' and she is known to predate Sakuya Izayoi in years. Due to her knowledge and skill in combat, it is safe to assume that she is, at the very least, 500 years old, if not older.
Species: Demon, an "artifical" one. She is a demon that was created from Shinki's hand, thus she is not a demon crafted from the Morningstar.  
Eye Color: Red-Brown
Hair Color: Blonde
Gender: Female
Sexuality: Bisexual
Height: 5'9"
Relationship Status: Single
Personality
"But even so, there is no need for Milady to dirty her hands. Kindly retire inside, and leave this to me."
A creation to Shiki, Yumeko puts the creator of Makai as her top priority. She is steadfast and loyal to Shinki, believing that, as her strongest creation, she should be capable enough to defend and protect her. Likewise, failing to protect Shinki or fulfill her every demand is crushing enough that a defeat can send her into tears of frustration and anger. It is difficult to convince her to leave Shinki's side and proposing such an idea will lead her to outright attacking a person.
Outside of her devotion to Shinki, Yumeko is a refined woman with a tongue as sharp as her blades. She speaks to others with a polite tone but isn't afraid to speak her mind. With her harsh looks and cold demeanor, it is easy for one to assume her as stiff and unfeeling but she is actually quite emotional and acts similarly to a young adult. She is easily flustered when it comes to cute things and oblivious to romance, resulting in her delivering deadpan responses to romantic advances or misinterpreting romantic signs.
In combat, Yumeko is sharp and quick on her feet. Her top priority is protecting Shinki thus she prefers to end fights in precise and quick finishes rather than creating long, drawn out, fights. As Shinki's strongest creation, thus being the strongest being in Makai, Yumeko holds pride in the fact that she is considered the finest of Shinki's creations. When she fights, she fights to uphold her own and Shinki's honor. She has an extreme dislike of betrayal but it is difficult to tell if this is of her own personality or something that Shinki created so Yumeko wouldn't leave her.
Backstory
Born within the world of Makai, Yumeko is Shinki's personal maid, a demon created from the woman herself.
It is said from Shinki herself that, out of all of the demons in Makai, Yumeko is her strongest creation, however her true strength is something that has yet to be shown as Shinki also made the direct order to hold herself back, outside of state of emergencies.
Throughout the land of Makai, Yumeko is known for being Shinki's personal maid and guard, the one who usually faces off against intruders, should they get past any defenses within Makai and the area surrounding Shinki's mansion. She has been in this position for a number of years but the exact number seems to be lost on her.
Yumeko is aware of the relationship between Shinki and Alice.
Abilities
Release; Blut: The full scope of her strength as Shinki's strongest creation. Through a specific chant, with the final sentence being Release, Blut! , Yumeko is allowed access to her full powers as Shinki's strongest demon. Her physical and magical capabilities shoot up immensely, allowing her to easily defeat humans, with only those who are trained masters being able to stand on equal footing. In youkai perspective, the release of her full strength allows her to fight against Mima and Yuuka on equal ground.
While her power is immense, there is a massive cooldown, assuming that Yumeko isn't killed. When the release wears off, Yumeko is extremely weakened due to exhaustion, which greatly hinders her fighting capabilities. It requires long recovery or Shinki to personally heal her body in order to bring her back to proper form which is why the full release is reserved for huge emergencies, emergencies that could threaten Shinki's life.
Release; Blut Vene: One of the release forms of Blut. This is not the full release but rather, Yumeko can use this release to allow some of Blut's power in short bursts; the boost is not as strong as the full release but still has a lot of force behind it to be trouble for most average people.  However, she does not use this often as the physical strain from continuous usage in one sitting is almost the same as a full release.
Create; Schwert: Her main ability as a demon. Through this form of creation magic, Yumeko is capable of making swords; it is done by saying the words "Create; Schwert" followed by the name of the sword but Yumeko seems to be able to use this ability without verbally saying it, instead mouthing the words. The type of sword she can create seems to extend to all kinds but she prefers creating European swords as a preference. She uses them as their intended use or throws them as if they were knives.
Her swords can be created within her hands or being "summoned" through portals that are capable of being directed and placed in various areas. With the addition of the portals, this also means that she can use the swords as projectiles or take a sword out of the portals. These portals are capable of being destroyed and recreated.
Magic: Due to her creator, Yumeko has experience with witchcraft but due to her sword making ability, she doesn't use it as much.
Heat Magic: Yumeko is capable of using heat magic, allowing her to utilize heat in combat. Through her heat magic, she can melt things with spells or touch or heat up items, such as her blades, for a heat-related effect. This is a type of magic that she learned from Shinki herself.
Magical Sense: Yumeko is capable of sensing magical energies from afar, allowing her to gauge the potential strength of others around her. However, there are energies whose strength overwhelm her in such a way that it leaves her with underlying fear that can freeze her up if she isn't careful.  
Fire Magic: Straight-forward fire magic. Through verbal or non-verbal movements, she can activate fire spells which range from fireballs, flamethrowers, firewalls, or using fire in conjunction with her swords.  
Physical Capabilities: As a demon, artificial or not, Yumeko has physical capabilities that ascend past the average human being. As Shinki's strongest creation, she can face youkai in physical bouts of strength with ease though, for the sake of keeping things equal, she's known to hold back when she's facing against humans.
Swordsmanship: As Yumeko is known for wielding swords, it is safe to assume that she actually knows how to use them in combat, besides throwing them. However, due to this ambiguity, it is also safe to assume that Yumeko is not a master swordsman and can be outpaced by those who are, which explains why she prefers throwing them.
Manipulation of Space: Yumeko, as implied in her boss fight in Mystic Square and wording from Shinki, has space manipulation of some kind. She is capable of phasing herself in and out of reality, as a form of intangiblity, for a temporary amount of time and is capable of manipulating space, even being able to narrow or lengthen it. It is also possible that Yumeko can "warp" space due to the distorion  effects that appear in her boss fight, effects that are uniquely to her fight which implies that it is of her doing.
Trivia
Yumeko has excellent skills in making tea and cooking.
She always prepares Shinki's meals and snacks.
Her dress has the unique scent of roses. This was something that Shinki had made herself.
-Bio Reconstruction in progress-